Outcomes / Exam Results
Exam Results 2018
A Level
Cardinal Pole Catholic School continues to build on our Outstanding Sixth Form OFSTED grade in 2017 by celebrating another set of excellent A Level and vocational results on Thursday. The school was delighted to secure 100% pass rate for all students and 18% A*-A, 54% A*-B, 88% A*-C and 97% A*-D, a significant increase on last year's high achievement. The school was especially pleased given all the recent changes in the A Level exams that our students were so successful in achieving the very top grades. Whilst the attainment and progress was extremely high across the piece, individual departments truly excelled, including Maths, Further Maths, History, Geography, Art, Business and Psychology.
Students were delighted with their achievements, with many exceptional performances including Jedidiah Ubaldo A*A*A*, Onder Kilinc A*AA, Joshua Williams A*A*B and Joshua Best A*AB, ensuring that they secured their chosen course and place at university. These included prestigious Russell Group Universities such as Warwick, UCL, Liverpool, Kings College London, QMUL, Nottingham and Birmingham, alongside top creative institutions such as Central College St Martins and Glasgow School of Art.
"I'm still in shock...but it could not have been possible without the support from the Maths and History departments who have pushed me to do my best. Excited to see where life leads me!" Jedidiah Ubaldo - Maths A*, Further Maths A*, History A* - reading Maths at UCL.
"I'm pleased with my results and am looking forward to studying at university. I've pushed myself hard this year and it's paid off. I want to give a shout out to the Maths and Chemistry departments as they have been hugely supportive and I thank them for all their efforts." Temi Oyebode - Chemistry A, Maths A, Biology B - reading Biomedical Science at Warwick.
"It is only through the help of my amazing teachers that such results were possible. This year has been such a rollercoaster and I am very glad to have come out the other end intact. I look forward to studying in the U.S., one of my greatest ambitions." Onder Kilinc Maths A*, Further Maths A, History A - taking a gap year to apply for university in the U.S.
Our students on vocational courses also continue to flourish, securing excellent outcomes and progression choices including gaining admissions to competitive courses such as Midwifery, Nursing and Primary Education.
It was also good to see students taking up some of the many opportunities for work and apprenticeships such as working within Business, Engineering and Legal Industries.
Already one of the top sixth forms in the country, the school has maintained, and improved upon, these excellent results year on year. As ever this is an outcome of collaboration between all in the school community and a great deal of planning and hard work by staff and students. We are grateful also to the support of our parents and governors and we are delighted to see the hard work of all involved has had such positive outcomes. These results will enable our students to face the future with the confidence based on academic excellence, as well as a wealth of experiences, opportunities and skills.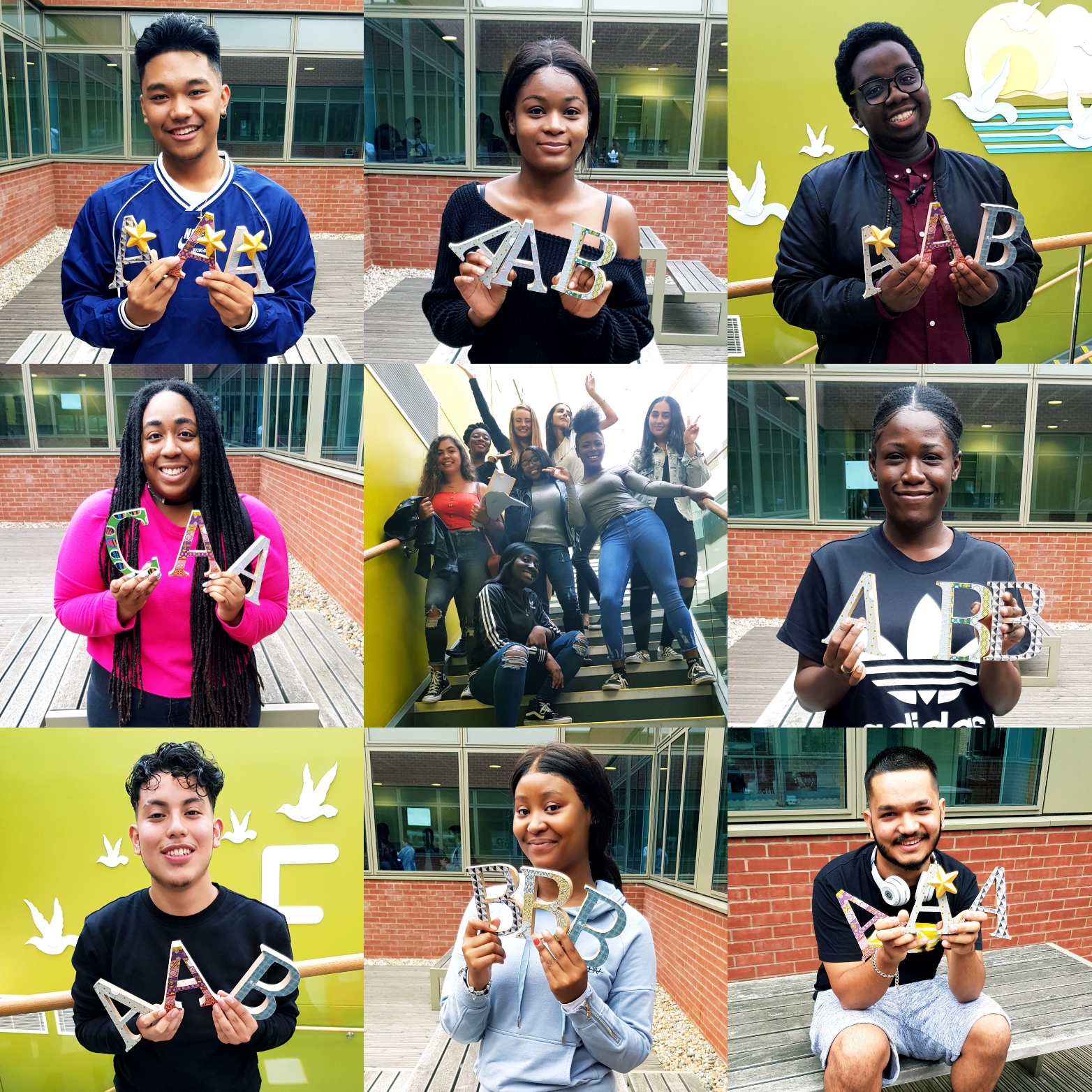 GCSE
We are delighted with the excellent exam results secured by students at the school, well above national at GCSEand A Level, continuing to build on already impressive achievements . These wonderful results were gained despite the many changes to assessment and content in the exams. Executive Headteacher, Ms Heffernan, paid tribute to the hard work of staff and students and the support of the parents in achieving these fantastic results. 'It is wonderful to be share such good news. At GCSE, our Year 11 students celebrated with improved results for the fifth year in a row, many securing the highest grades. These grades are a testament to the hard work of all involved in the school and I am delighted that all our efforts have paid off.
GCSE Maths results at 72% C grade equivalent (Grade 4) were very pleasing. English results continue to be well above national at 72% C grade equivalent (grade 4). Overall, results continued to improve for the fifth year in a row. Especially pleasing were improvements in students securing grade 5 and above. Other subjects also secured continued success, exceptionally with eleven departments all securing over 70% A*-C grades, including English, Maths, RE, History, Computer Science, Art and Drama. There were some outstanding individual student results Congratulations to all of them.'
We look forward to welcoming the class of 2018 back to school as Cardinal Pole Alumni so they can share their success and inspire others.
Ms J. Heffernan - Executive Headteacher
---