Debate Event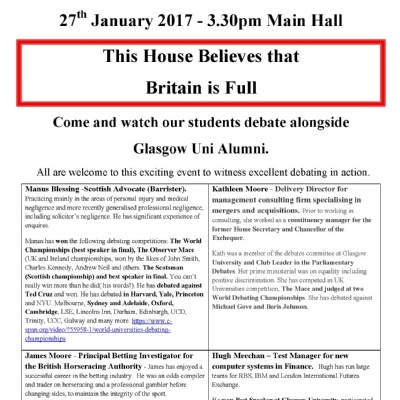 We are extremely privileged to have some very experienced debaters traveling from Glasgow to work with and debate with our pupils. Whilst at University, they debated at World Championship level, and their opponents included some very distinguished politicians, such as Michael Gove, Ted Cruz and Boris Johnson. Additionally, they have also represented debating teams at universities all around the world. We are privileged to have these very experienced debaters agree to showcase their skills.
We would like to take this opportunity to invite you to this exciting event, for what promises to be a lively debate, as the motion is very topical following Brexit. There will be an opportunity for audience involvement in a Q&A session while the Judges make their decisions. If you would like to attend, please indicate the number of seats you require on the slip below and return it to myself or Ms Hartley by Thursday 26th January 2017.
Cardinal Pole is a publishing House.
The school is also proud to be a publishing house. To date, we have published two critically acclaimed student anthologies: A Complicated Answer and more recently, Colours of a Closed Eye which are available from our school office.
Colours of a Closed Eye'
The latest anthology is hot off the press and has had excellent reviews from established poets and authors. All of the creative writing and the book cover is the work of pupils who attend the school. It is available to but from the school and a book launch is being planned.